Bridge Baron 29 DOWNLOAD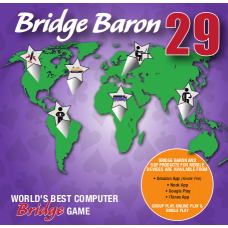 30 day refund available for any UNOPENED and SEALED software. If software has been activated no refund will be provided. We urge all customers to download the DEMO prior to purchase.
*New Features:
1. We have added six new Bridge Tournaments for free: the 2018 NSWBA ANC Butler Open Selection (with Butler IMPs scoring), the 2017 New South Wales State Swiss Pairs (with Butler IMPs scoring), the Summer 2017 DSBA Sectional, the Winter 2018 Blue Hen Sectional, the Winter 2017 Dave Treadwell Sectional, and the Spring 2018 Wilmington Sectional.
2. We have added 24 new challenging problem deals for a total of 530 Challenges. Kit Woolsey, multiple world champion and author of several bridge books, designed the new deals.
3. We have improved the graphical user interface.
4. We have improved the bidding, declarer play, and defense.
Runs on Windows XP SP3 / Vista / 7 / 8 / 10
Write a review
Your Name:
Your Review:
Note: HTML is not translated!
Rating:
Bad
Good
Enter the code in the box below: