Bridge Basics 3 : Popular Conventions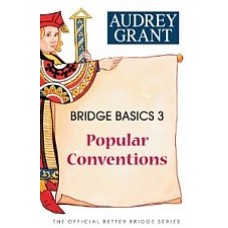 Audrey Grant does it again with an amazing new book, Popular Conventions, the third book in a series. It covers everything from playing at a party table to a tournament table; Popular Conventions teaches you the core conventions that will strengthen your game for sure. It introduces you to the Stayman conventions, Jacoby transfer bids, the strong artifical two club opening, Blackwood and Gerber. This book gives you a chance to get ahead and win!
Write a review
Your Name:
Your Review:
Note: HTML is not translated!
Rating:
Bad
Good
Enter the code in the box below: